Shoot for the Stars with RocketCDN
Supercharge your website super easily
Prepare Your Website for Success
Time to reach your full potential
Do you know how many miles your users are virtually traveling to read your content?
If your website is serving a broad international audience, reaching people all over the world, the distance between your website's server and your users' is one of the crucial factors of web performance.

RocketCDN is the bridge that brings your users closer to your website, no matter where they are on the globe (and beyond)!
Power and Speed Are Just 1 Click Away
We live and breathe for web performance
Designed for Performance
Created by the WP Rocket team, RocketCDN automatically applies the best CDN settings.
Cache expiration policy, GZIP compression, HTTP2… we set everything up to boost your speed and performance scores. We're on a mission to make the web faster, hop on the spaceship!
Simplicity Like Never Before
No need to be a rocket scientist, using RocketCDN requires absolutely no technical knowledge.
You won't waste your time going through numerous tabs and complicated customization options. Let us do the heavy lifting: simply enter your url to enjoy our custom automated CDN settings. That's it!
Compatible with Your Website Technology
Integrate RocketCDN directly with WordPress or connect to any content management system through your RocketCDN CNAME. You can always deliver your content in a superfast manner, regardless of your favorite CMS.
One Plan, Unlimited Speed
A single offer to suit all your needs
No need to calculate your costs, you will always know how much you will be charged, regardless of your bandwidth.
Give it a try for one month, you can unsubscribe whenever you want!
For each domain, our plan includes:
Unlimited bandwidth*
All CDN files automatically served over HTTPS
SSL traffic
All Global Pops
Excellent support
Start your Cosmic Journey with RocketCDN
Enjoy a 3-step configuration
Prepare
To get started, simply add the URL of the domain you would like to speed up.
Ignite
All CDN settings and configurations are applied automatically, no need to do a thing!
Take Off!
Add your CDN url to any CMS, framework, or custom app. Your website is instantly faster!
Trusted by 7,500 Customers
Because user satisfaction is all that matters
A few days ago, I subscribed to RocketCDN which has significantly improved various metrics that I was not able to optimize.

The technical support was GREAT to help me. BRAVO and THANK YOU!!!

Marie-Aude Bourson
I recently also switched from Cloudflare to RocketCDN and all I can say is WOW. RockedCDN blew me away, it's not only more stable, from what I can say now, it's also way faster, at least for my usecase! And about half the Price of Cloudflare Plus!

Paul
Our Team Is Here for You
Expert help at your fingertips
We're a passionate bunch always happy to provide fast and friendly support
Questions? Issues? We're here to help you out.
Reach out to us and we'll answer all your queries, always with a smile. Together, we'll take your website to space.
Meet Romain
When he's not flying his spaceship, he helps customers all around the globe.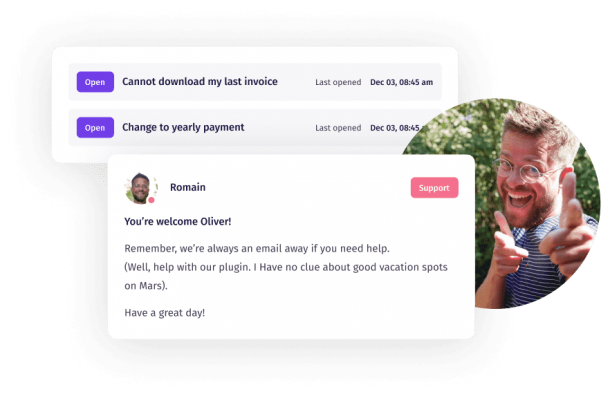 Launch Your Website into Space with RocketCDN!
Ready for take-off?